We went for a walk on the Pier 4 Waterfront trail this afternoon. Ricky is doing so well! We spent a while gently brushing & combing him after the walk and he was so patient. He and Marley are doing well together. When we were teaching Ricky to stay back from the pool edge today, Marley deliberately pushed herself in front of him so SH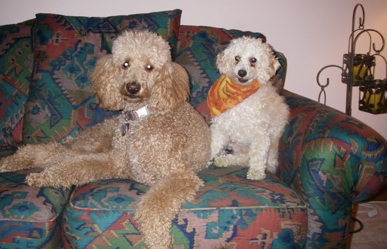 E was next to the pool & he was on the outside(safer) as they trotted around it together. I said to Wayne, if I didn't know better I'd say she just did that to protect Ricky. We are so grateful that he is part of our family! He is acting like he has been here all his life! We just love him! It's great! We let him sleep with Wes last night & this morning he was snuggling with me, as the boys went for an early morning golf game! He is an absolute doll! Thanks again & take care!
2007
Ricky hasn't had any problems with the screen door & seemed to figure that one out right away. He is settling in well. He is sleeping with our son in his bed tonight. He is such a sweetheart.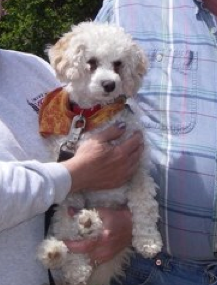 Ricky & Marley have been having a blast chasing each other around the house and the back yard. They are pretty hilarious ~ as you can imagine! Ricky has already started to establish himself as the leader, which is comical as he is about a quarter of Marley's size, but I guess he doesn't know that! 🙂 Ricky is exceptionally loving with us – all 4 of us! What a sweet disposition! However when it comes to Marley, he will send her running, if he chooses. He has already eaten food from her dishes, has stolen her rawhide and keeps trying to establish that her bed is his bed, which is hilarious! He knows already which bed is his but he will flop down in hers and growl at her if she comes near it. They are working on establishing the pecking order in this "pack". Marley is surprisingly timid around him. We thought Marley would be the alpha leader, being the senior and a female, but Ricky is holding his own! Time will tell. 
We absolutely love him and thank you so much for being such good parents to him. We are so delighted that we have been granted the privilege to give
him another chance at a good life. I can't help but feel that it was our fate to find each other ~ Ricky & our family!
Thanks again! Ricky totally makes my Mother's day! He has already brought us so much happiness! Amazing! Take care & big hugs!