January 2007
Hello to all my friends at the Pomeranian and Small Bree Rescue!
Brandi here, just wanted to let you know that I am settling in nicely to my new home. I love my new mommy and follow her around the house constantly, and when she goes out I wait by the door for her to return. I know that this is just because I am still unsure that she will return, and will grow more trusting as time goes by. I love the neighbourhood, there are lots of people and doggies for me to meet! I still get a little freaked out when a whole bunch of them charge at me to say hi, but I am getting use to it.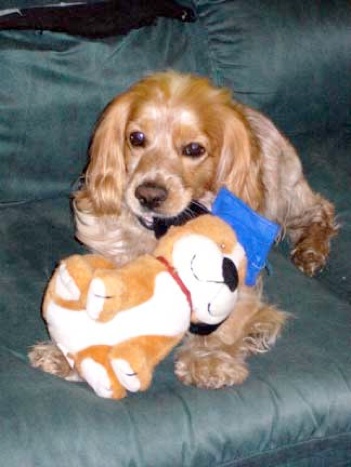 My only problem so far is that I don't like my mommy's sister, and try to bite her every time she comes over. But my mommy has called a special lady to come in and work with all of us to try and resolve our issues.
I miss you all, but I know that I have found my new permanent home here. My mommy has attached a picture of me sitting on the couch with my doll. I have had a haircut, and I think I look pretty darn cute.