Dogs enter our rescue in a number of ways: Some of our foster dogs come to us from local shelters where they are in danger of losing their lives due to the high cost of life-saving medical procedures or because they are deemed 'un-adoptable' as a result of behavioural issues. For small dogs who are used to the comfort and security of a home, shelter life can simply be too stressful.
Other dogs are surrendered to us by owners who have experienced an unexpected change of circumstances that no longer allow them to care for their pet.
Still, others are rescued from lives as breeders in puppy mills where they may be confined to small cages for long periods of time, receive little to no exercise, minimal veterinary care, are poorly socialized with humans and other dogs, are untrained and generally very badly neglected.
In addition, we maintain relationships with other rescue groups operating in our area and do occasionally take in dogs transferred from one of these organizations.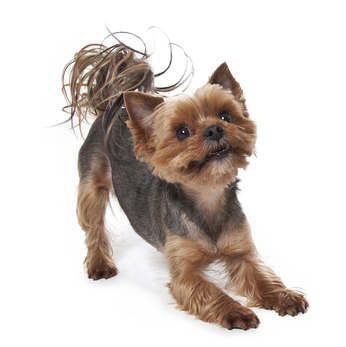 If you are interested in adopting a rescue dog please visit our AVAILABLE DOGS page to read more about our available dogs and fill out an Adoption Application Form.
None of our members are paid staff. Our network of dedicated volunteers includes foster parents who care for dogs in their home; groomers; home visit reviewers; drivers who help transport dogs from various shelters to waiting foster homes and vet appointments; application processors; knitters and sewers who create beautiful sweaters, belly bands and panties both for our foster dogs and for sale at fundraisers; publicity specialists; and those who donate their time to administrative functions and other vital tasks. As volunteers, the only compensation that we receive for our efforts is the satisfaction of knowing that we made a positive difference in a dog's life. All adoption fees and donations go directly to the veterinary care of our dogs.
We strongly urge anyone who is considering adding a dog to their family to adopt, not shop. Many adult and senior dogs are overlooked due to their age even though many small dogs can live to their high teens. These dogs have many more years of happiness to share!
If you would like to become a volunteer with Pomeranian and Small Breed Rescue please visit the VOLUNTEER page to learn more about how you can help and fill out a Volunteer Application Form.