Kat Von D came into PSBR foster care in the fall of 2018 and came to us in January 2019.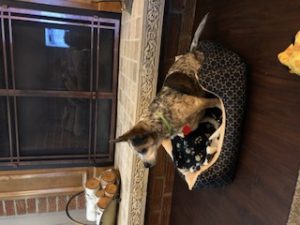 Kat was a quirky girl who was a bit of a loner and enjoyed her own space. She avoided our Yorkie Tim and he obliged by giving her the same courtesy.
Kat and Tim made their peace tolerating one another but both vying for attention specifically sitting in my lap.
Kat slept with me at night hogging the bed, the covers and snoring most of the night. She loved to be outside in the garden investigating every nook and cranny all the while sniffing out the red squirrels and chipmunks. Her dream was to catch one but Kat's vision wasn't the best and even though she was fast she never caught one.
One of Kat's favourite things to do was crawl up into my lap for a nice snooze. The first time she gave me a kiss on my nose melted my heart and that was it for me. We decided we needed to adopt her and she became just plain old Kat dropping the Von D from her name and we became foster fails.
In Kat's own way she became a very loving dog. Kat's health was declining this past year and she was diagnosed with Cushing's disease. It was with great sadness that we had her humanly put to sleep on January 03rd 2023. I still look for her in her empty bed. She's out of pain now and is frolicking over the rainbow bridge with her brother Tim. I miss her.
Alison