Annie has been a part of my life for 4 years now.
I work at a veterinary hospital which deals with the Pomeranian and Small Breed Rescue. I have seen plenty of dogs in need of homes come and go. I still remember the morning when I walked into work and spotted this tiny little orange dog, sitting quietly in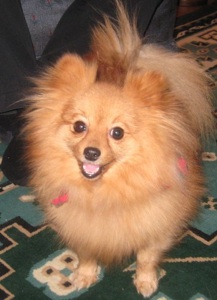 her cage, waiting for her turn for surgery. Shaking and scared she looked up at me with empty eyes. She was the cutest thing I had ever seen, she resembled a little fox. She was very timid at first but the more time I spent with her throughout the day, I just knew I had to have her. I wasn't looking for a dog at that time, but I feel that Annie just happened to find me. A few weeks later, she was mine.
I couldn't have asked for a better pet, companion, and most of all friend. Annie has changed my life in ways that I cant explain. She has experienced separation anxiety, which is now under control with extensive training.
I can not express enough, how much the Pomeranian and Small Breed Rescue group does for these animals, it is an amazing organization, with wonderful caring people. All the dogs on this website deserve a fair chance and a new take on life. Please consider adoption if you are looking for a new best friend, I  did 4 years ago and I wouldn't change a thing.