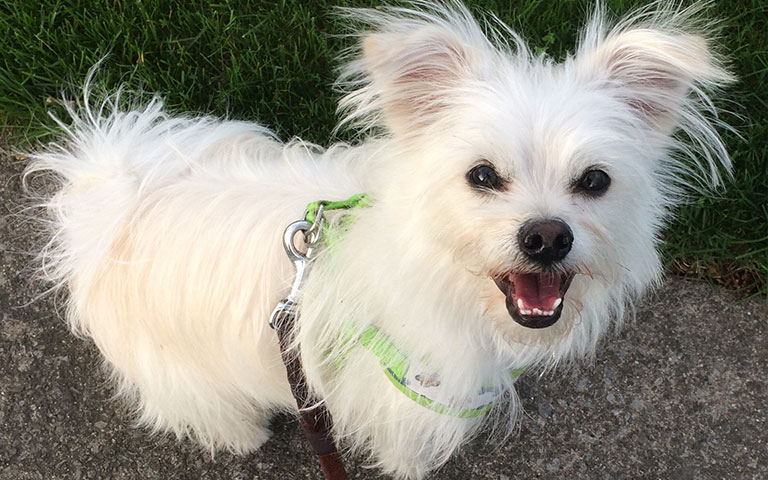 I am - female, Maltese
Age - 9 years
Weight - 10 pounds
Sheds? - no
Exercise Needs - low-medium
Barking - yes
Housetrained? In progress.
Good with:
Dogs - yes, depends
Cats - yes, depends
Kids - Not under 12 years old***
This is Maggie. She's a 9 year old Maltese who was surrendered when her owner moved into an apartment. She's up to date on her vaccinations and is spayed. She recently had a dental cleaning and twelve teeth removed. She also had a benign sebaceous cyst removed from her back and a small growth from her paw.
Maggie is a sweet little girl who is a bit on the timid/anxious side. When she first arrived in her foster home, she would urinate submissively when approaching people. As she has adjusted and gotten more comfortable, this has mostly stopped. She is still having accidents in the house but with time and patience this should improve as she was housetrained when living in her previous home. Maggie needs a home where she can have a predictable, structured routine. It would be great if someone was around most of the day as she is not used to being left alone too much.
Maggie likes going for walks and is very good on a leash. She doesn't pull and will walk at your heels. For short car rides she is a bit anxious but for longer rides she eventually curls up and goes to sleep. She is so adorable when she flops down on her back to ask for a belly rub.
Fostered in Toronto.
ADOPTION FEE: $250.00
All applicants must be 25 yrs or older
Applicants must be within 3 hr driving distance from Hamilton ON, and reside in Canada
Please advise your vet and personal reference that we will be calling
Pomeranian and Small Breed Rescue is not a kennel facility, all of our dogs live in volunteers' homes. For their security, only approved adopters may visit the dogs at the foster home. Keep an eye on our website and Petfinder listings for upcoming meet and greet events that are open to the public.
Apply for Adoption
Click the button to fill out your adoption application today!
****************************************************
Want to foster a dog in need?
PSBR is urgently looking for new Foster Homes, if you can help us, please fill out a Foster Application.