September 2013
This little monkey originally known as "Deena" came to me from her Foster Mom Nasim, just a few short weeks after having been rescued from a Puppy Mill in the US.
When my daughters and I first saw Poppy (her newly appointed adoptive name!), she was quietly hiding in the garden and under bushes in the shade, happily avoiding contact with all of the people and dogs that were milling around that afternoon.
After hearing so many stories and seeing pictures and videos of this little peanut at Nasim's, I slowly began to realize I needed this little girl in my life. I asked Nasim about her adoption and not a moment too soon, as Nasim had started setting her sights on adding little Poppy to her brood!
She arrived at my office in her bag, shivering and avoiding eye contact at all cost. She hid in her bag in the car-ride home, and proceeded to hide under my kitchen table when we got home. She didn't seem too concerned with my 100 pound chocolate lab named Gus, but she did seem very concerned with feet shuffling by her on the floor..
After a few short days, she slowly started to be less afraid, and happily ran into the back yard to roll in the grass and smell the dandelions every chance she got. We often had trouble getting her to come back inside while she was busy basking in the sunshine. Poppy quickly realized that her big, (younger) brother Gus would pretty much let her do whatever she wanted due to her teeny size, so she overtook all of his giant fluffy pillows in the house. She began to love to eat, and decided that Gus's water dish was much better than hers, so she overtook that as well.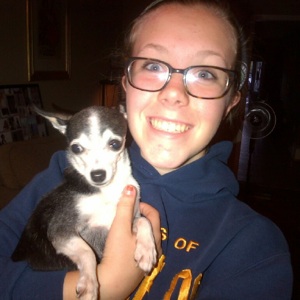 Only a month after adopting her, she is a spunky, toothless, 8 year old little girl who sneaks upstairs to eat the cat's food, runs around taunting the other 'furries' in the house, and loves being carried around everywhere by her big sisters. She still remains a bit fearful of men and strangers, but is well on her way! She is the most endearing little ball of love one and our family is more complete thanks to our little Poppy.