Let me tell you about my fosterboy, Markey – a quirky little 'pom' found wandering the streets of Buffalo in the middle of March.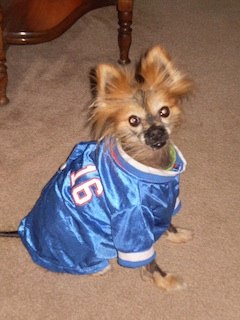 How did he survive winter's cold without a stitch of fur? What did he eat, how did he drink? But somehow he did, surrounded by angels, until he was rescued by a shelter and then turned over to PSBR. His final journey found his forever home with us.
Although faced with many health issues, Markey loved life, and he especially loved people! In the two years of fostering Markey, he became a very loyal member to both his canine pack and his human pack. In two years I never saw a sneer, never a nip, never a bite. Markey lived to please all. He got along famously with all new foster dogs and any other canine friend he would meet. That was Markey. And people loved him – could it be because of his wonderfully extensive wardrobe? He certainly attracted attention. Or could it be because of JUST WHO HE WAS? We were so blessed to have had him for the last two years of his life.
Although his passing was so very sudden, I know he is in a better place. But my heart is so broken and a part of me is missing. It is because of his unconditional love that the pain is so intense. I pray that he knows we did all that we could in the remaining moment of his life to ensure he was comfortable. And, as he left this realm in peace, pain-free, and cradled in Paul's arms, I hope he heard the words that he was 'the best' and so very loved as he received kisses and hugs to take with him as a reminder of us.
Did he hear these words as he left? I hope so as it is all we had left to give at that point. I know, with time, the hurt will lessen. And I know that without PSBR's rescue of this little dog, he would not have had the care, medical attention and love that he so deserved.
RIP and Godspeed sweet Markey. There are many family canines and PSBR canine friends waiting to greet you. But you make sure you look down once in a while so you can see the love I send okay? We will meet again, and I will be in awe of this beautiful full-coated pomboy running to me – a pom called Markey-Mark!
Laurie, Petey and Tuffy