Dear Pomeranian and Small Breed Rescue:
On May 1st, we adopted Gemma.  A four year old puppy mill rescue dog.  You would think after the life she has had, she would have been very difficult to deal with.
Gemma has fit into our lives as though she was meant to be here.   She is so loving, has a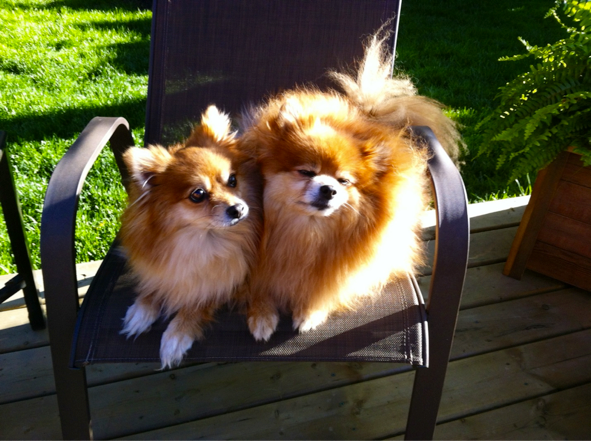 beautiful temperament and is such a gentle lady.  We are so happy to have her and the difference now to when we brought her home has been tremendous.  She plays with her brother Moose, she runs around the backyard with her ears and tail up, she has a special place in the yard where she hides her treats so she has something to munch on when we take her and Moose out for the bathroom!!  She had her first family bar b q last week and loves hotdogs…..oh and the family!!!
Gemma may be grateful to us for her forever home but, we are so grateful for her…..she is a little doll and we all love her so much.
Thank Pomeranian and Small Breed Rescue, thank you to all the people who helped to bring Gemma to our home.
Tina and Paul Bentham and Moose!